As a missionary serving in Western New York, those I have the amazing opportunity to teach and serve have something special just around the corner. Very few people in the world actually get to set foot in the places where The Church of Jesus Christ of Latter Day Saints first began. The towns of Palmyra, Fayette, and the nearby surround areas are commonly known among Church members as The Cradle of the Restoration. Amazing stuff happened in these places. This is where it all began, where the Lord's true Church and Gospel where restored to the earth by living prophets. Those living and serving in Western New York have such a unique opportunity to actually visit these places and feel how sacred they really are. I would like to share with you brief descriptions of these places and what happened there. This is how it all transpired.
The Sacred Grove
The Sacred Grove
While growing up, young Joseph Smith was very concerned about which church he should join. He had been taught to love God and Jesus Christ all his life by his parents and wanted to do what was right. But so many different religions where out there, preaching many different things. Some said they were right, some said others weren't right. Joseph was very confused at what he should do. Then he stumbled upon a verse in the Bible that touched him in such a way that he had never felt before. It read "If any of you lack wisdom, let him ask of God, which giveth to all men liberally and upradeith not; and it shall be given him." (James 1:5)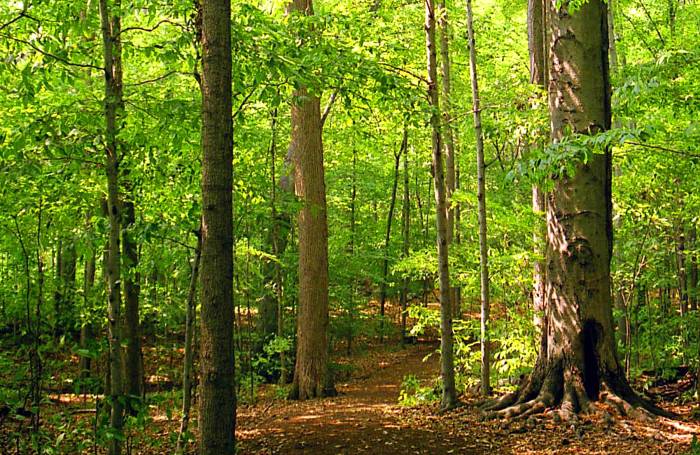 The Sacred Grove
So one day in the spring of 1820, Joseph Smith at the age of 14 decided to do just what he felt he should do, go and ask God personally. So one morning he went into a grove of trees next to his father's farm and his family's cabin to do this. In Joseph Smith's own words, this is what happened.
After I had retired to the place where I had previously designed to go, having looked around me, and finding myself alone, I kneeled down and began to offer up the desires of my heart to God. I had scarcely done so, when immediately I was seized upon by some power which entirely overcame me, and had such an astonishing influence over me as to bind my tongue so that I could not speak. Thick darkness gathered around me, and it seemed to me for a time as if I were doomed to sudden destruction.
But, exerting all my powers to call upon God to deliver me out of the power of this enemy which had seized upon me, and at the very moment when I was ready to sink into despair and abandon myself to destruction—not to an imaginary ruin, but to the power of some actual being from the unseen world, who had such marvelous power as I had never before felt in any being—just at this moment of great alarm, I saw a pillar of light exactly over my head, above the brightness of the sun, which descended gradually until it fell upon me.
It no sooner appeared than I found myself delivered from the enemy which held me bound. When the light rested upon me I saw two Personages, whose brightness and glory defy all description, standing above me in the air. One of them spake unto me, calling me by name and said, pointing to the other—This is My Beloved Son. Hear Him!
My object in going to inquire of the Lord was to know which of all the sects was right, that I might know which to join. No sooner, therefore, did I get possession of myself, so as to be able to speak, than I asked the Personages who stood above me in the light, which of all the sects was right (for at this time it had never entered into my heart that all were wrong)—and which I should join.
I was answered that I must join none of them, for they were all wrong; and the Personage who addressed me said that all their creeds were an abomination in his sight; that those professors were all corrupt; that: "they draw near to me with their lips, but their hearts are far from me, they teach for doctrines the commandments of men, having a form of godliness, but they deny the power thereof."
He again forbade me to join with any of them; and many other things did he say unto me, which I cannot write at this time. When I came to myself again, I found myself lying on my back, looking up into heaven. When the light had departed, I had no strength; but soon recovering in some degree, I went home. And as I leaned up to the fireplace, mother inquired what the matter was. I replied, "Never mind, all is well—I am well enough off." I then said to my mother, "I have learned for myself - Joseph Smith History verses 15-20
Picture I took in the Sacred Grove
I've had the special chance to be in the Sacred Grove, on more than one occasion. I've seen it in the middle of summer, the days of fall, the end of winter, and now the middle of spring. Each and every time I feel something special and powerful. I feel the Spirit witnessing to me that what Joseph Smith said happened in these woods is true, that the Father and His Son appeared to a simple fourteen year old farm boy. I know that this is all true. I hope everybody gets a chance to come here and feel for themselves how sacred the Sacred Grove really is.
Here's the address for the historical site and phone number:
843 Stafford Road
Palmyra, New York 14522
315-597-4383 (Main)
Schedule:
Summer: 9:00 a.m.–6:00 p.m. Winter: 9:00 a.m.–5:00 p.m.